31 Days Encounter With the Holy Spirit
ebook
∣

Impartation Of God's Wisdom To Achieve Great Exploit. Learning From The Holy Spirit.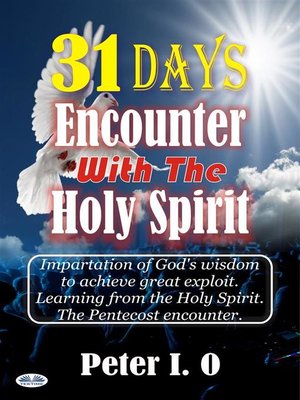 Sign up to save your library
With an OverDrive account, you can save your favorite libraries for at-a-glance information about availability. Find out more about OverDrive accounts.
Search for a digital library with this title
Title found at these libraries:
This book, "31 Days Encounter with the Holy Spirit," is a "Life in the Spirit program." A study guide that attracts divine encounter and releases the supernatural virtues of the Holy Spirit in your life. It is an insightful program where you get supernaturally empowered and equipped to succeed in all ramifications of life. Many people who failed in businesses, marriages, academics, and other areas of life could have been successful if they had humbled themselves and learn from the Holy Spirit whom God had made a Teacher to those who are willing to learn and grow in knowledge, wisdom, and understanding.
Before we talk about the personality of the Holy Spirit, let's consider this story. A man was looking for a good school where he could register his children for proper education. His friend introduced him to a school and highly recommended the school for his children. Initially, the man did not consent to his friend's recommendation because he doubted if the school has good teachers. But later, he decided to give it a trial. He registered one of his sons just to know what would be the outcome of the studies. At the end of the first term, the performance of the child was superlatively outstanding. The man was delighted. Without hesitation, he registered the other of his two children, making it a total of three children he enrolled in the same school. Just like the man who enrolled his three children in the same school after he had ascertained the credibility of the school, we also need to know who the Holy Spirit is and find out His definite attributes. This will help us to believe in Him fully and also open our hearts for His impartations. "And the angel answered and said to her, the Holy Spirit will come upon you, and the power of the Highest will overshadow you, therefore, also, that Holy One who is to be born will be called the Son of God". – (Luke 1:35) Holy Spirit is a Personality who has divinely embodied power to make everything possible. Nature demands that a man and a woman must come together sexually before a woman could conceive and bear a child. But in Luke 1:35, we see the Holy Spirit overruling the law of nature and granting a woman a child in her womb without the interference of any man. Holy Spirit is in relation with the Godhead. He is the Spirit of God sent to help humanity achieve divine purposes. He gives wisdom for diverse purposes and also imparts moral and decent character in the lives of those who are privileged to have Him. He was fully involved in the creation of the earth and the things in the earth (Genesis chapter 1). Presently, He is the Spirit of God, helping the church of God to manifest the power and glory of God. He was sent to us by God after the ascension of Jesus Christ into Heaven (Acts 1:4-8, 2:1-4). The Holy Spirit is in the world today, moving around and helping those who are willing to learn and receive from Him. He is our Comforter whom God sent to comfort us in every situation. The good and wonderful attributes of this glorious Personality called "The Holy Spirit" are so numerous to mention. But with these few qualities of His mentioned here, it is convincing that the Holy Spirit is worth hearing and learning from whenever He speaks. He gives wisdom, knowledge, and understanding to those who submit to His learning.
PUBLISHER: TEKTIME