Sobreviví a una masacre cometida por las Farc en Urabá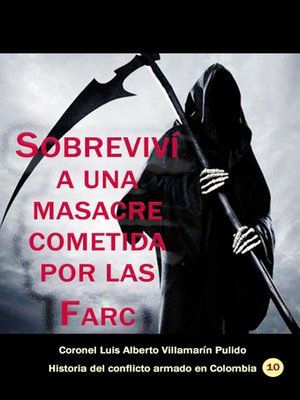 Sign up to save your library
With an OverDrive account, you can save your favorite libraries for at-a-glance information about availability. Find out more about OverDrive accounts.
Search for a digital library with this title
Title found at these libraries:
Sin que esto estuviera dentro de mis planes, las circunstancias del destino condujeron por fuerza de las mismas, a que después del licenciamiento como soldado raso y de trabajar en una microempresa particular en la convulsionada región del Urabá antioqueño, ingresara a la Brigada Móvil No 3, en calidad de soldado profesional.
Tal vez, como la última y para mi atribulado y enredado pensamiento — era la única opción que quedaba para recuperar la identidad personal—, luego de soportar la crueldad de las torturas, la pérdida de los seres queridos y de evidenciar en el terreno de los hechos que la primavera de las violaciones de los derechos humanos por parte de las Farc, supera con creces, escasas estadísticas que se publican al respecto.
Luego de sufrir la amarga experiencia de un prolongado secuestro, tuve la certeza que ni las muertes de mis familiares, ni las de cientos de bandoleros caídos en acción de guerra, resuelven el complejo problema de la violencia en el país.
Por ende, no es aventurado preconizar que las Farc no renunciarán a la "lucha armada" para negociar la paz, porqué la deteriorada situación de orden público en Colombia, favorece la concepción estratégica de sus planes triunfalistas y no se vislumbra acción correctiva de los gobiernos de turno.
A esta realidad, se suma la extrema facilidad que tienen las guerrillas comunistas colombianas, para conseguir recursos financieros derivados del narcotráfico, las extorsiones, los secuestros, a la par con elevados réditos que recogen por concepto de inversiones financieras en entidades internacionales, en las que blanquean exorbitantes sumas, tanto en Colombia como en el exterior.
Mientras las Farc delinquen con base en un plan estratégico, articulado con minucia en el espectro político, armado y financiero, con el fin de conducir la guerra total, metódica e integral contra el Estado colombiano, la contraparte adolece por sustracción de materia, la falta de una respuesta concreta contra la agresión, reflejada en la ausencia de acciones contundentes, desprendidas en una estrategia clara orientada a resolver el problema de la violencia.