Reverse Analysis, the Existential Shift, Gestalt Family Therapy and the Prevention of the Next Holocaust
ebook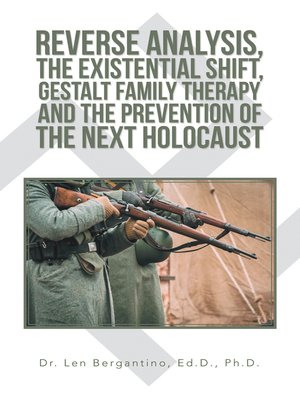 Sign up to save your library
With an OverDrive account, you can save your favorite libraries for at-a-glance information about availability. Find out more about OverDrive accounts.
Search for a digital library with this title
Title found at these libraries:
Do you think that some slug who looks very professional who "whispers" an occasional interpretation to you five times a week for 7 years can make one bit of difference in your life or does such a psychotoxic slug called a psychoanalyst merely stick you in an emotional toilet bowl for seven years having the cumulative result of turning you into a hopeless bastard who will never turn the tragic corner in his or her life?
Can your analyst analyze an archaic liquid symbiotic or an osmotic transference, or can they even recognize this phenomena in order to analyze it? If the psychoanalyst cannot analyze these transferences they can't do an analysis!
I used to get "good faith" patients who had the balls to work on the cutting edge at the same time I did because they had had combinations of twenty years of two seven year analyses plus several briefer psychotheraphies, only to be as crazy as the day they walked in! (-$200,000.00)
As Dr. Donald Rinsley, M.D., fellow-American College of Psychoanalysts wrote about me, my work has both a healing effect and affect. Patients used to pay me six months in advance to hold the time open because I was irreplaceable; I was the only one who could analyze the psychotic core of the personality and I was the only who could actually do what Dr. Wilfred R. Bion, MRCS (Medical Royal College of Surgeons) wrote about analyzing the psychotic core of the personality/
As I am seventy-six years old, I have written five books that must be read and digested in their entirety. As these books are the thing-in-itself they will transform the reader into the kinds of analyst, patient and psychotherapist who can make a difference in helping people turn the tragic corner in their lives! In other words, these five books are analysis!
These books were written to be around for a few hundred years and were directly guided by the Almighty!
By: Dr. LEN BERGANTINO, Ed. D.(USC), Ph.D., A.B.P.P.
Reverse Analysis, the Existential Shift, Gestalt Family Therapy and the Prevention of the Next Holocaust
This is a clinical example of a one-session existential shift in a lifelong personality characteristic of a patient. This is for hypnosis or training in hypnosis contact.