River Pack Wolves Box Set
ebook
∣

Books 1-3 of the River Pack Wolves Series

·

River Pack Wolves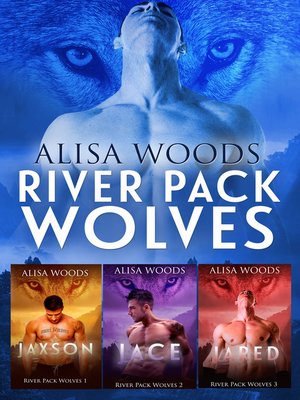 Sign up to save your library
With an OverDrive account, you can save your favorite libraries for at-a-glance information about availability. Find out more about OverDrive accounts.
Search for a digital library with this title
Title found at these libraries:
LIMITED TIME BOX SET: Books 1-3 of the Bestselling River Pack Wolves Series by Alisa Woods
Jaxson (River Pack Wolves 1):
Three brothers. Three Secrets. One hope to save the shifters of Seattle. Former SEAL Jaxson River would give his life for his brothers and his pack, but if he doesn't claim a mate soon, he'll be forced to step down as their alpha. There's only one problem: Jaxson's dark secret would kill any mate he claimed. With someone kidnapping shifters off the street—and only Jaxson and his brothers, Jace and Jared, to stop them—now is not the time for his secret to come out.
Curvy Olivia Lilyfield is a half-witch orphan with a dark secret of her own. She wants to atone for it by doing good in the world, so when she finds a wolf being tortured in an alley, she doesn't hesitate to help... even though wolves and witches mix like matches and TNT.
Olivia's dangerous magic means she can't let anyone get too close—but Jaxson can't keep his hands off her, and his kisses are more than she can resist. As they race to save the disappearing shifters of Seattle, the true danger lies in loving each other. They're playing with magical fire... and their secrets could end up destroying them both.
Jace (River Pack Wolves 2):
His wolf is out of control. She's a wild thing that won't be tamed. Ex-Army Specialist Jace River has a lock on his bedroom door, but it's not to keep anyone out; it's to keep his nightmares from breaking loose. His wolf is an out-of-control killer, which means he can never risk shifting, never truly be part of his pack, and definitely never take a mate.
Piper Wilding works for the Army as a civilian, traveling the world for her work in counterintelligence and fighting the bad guys while bedding down the good ones. The best part? It keeps her far from her asshole father in Seattle, the rest of the Wilding pack, and the pressure to take a mate. Settling down isn't her thing, and after what happened to her mother, Piper vowed she would never be tied down by magic or men again.
While Jace's wolf keeps him Sleepless in Seattle, Piper returns home to find her missing kid brother. When she breaks into the River brothers' safehouse, sparks fly and claws come out. Her sexy skills threaten to bring out Jace's wolf, and Jace's good-guy hotness reminds Piper how tempting shifter men can be. They're like fire and gasoline, and as they race to find Piper's brother, the heat threatens to burn down all their carefully constructed walls. But falling in love has never been so dangerous—and being together means taking risks that neither might survive.
Jared (River Pack Wolves 3)
He was broken by the war. Her secret could destroy her family. Ex-Marine sniper Jared River left the war, but the war never really left him. He's a broken wolf who's only good for one thing now—killing men. And he's peering down his scope at Senator Krepky, the anti-shifter politician about to ruin the lives of all the shifters Jared loves.
Grace Krepky is the daughter of the Senator, a good girl with a passion for her father's politics and who's earned her way into being his campaign manager. Only problem? She's secretly a shifter... and the clock is ticking until her own father inadvertently forces that secret into the open, ruining both their lives.
Jared's all set to pull the trigger when he sees something shocking through the Senator's glass walls—his daughter is a wolf. Jared puts his gun aside to go after the fleeing girl, but he already knows this can only end in one of two ways—either he'll convince her to...