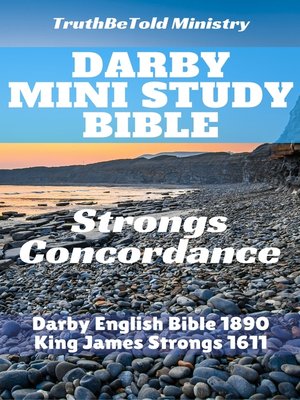 Sign up to save your library
With an OverDrive account, you can save your favorite libraries for at-a-glance information about availability. Find out more about OverDrive accounts.
Search for a digital library with this title
Title found at these libraries:
This Study Bible contains Darby English Bible (1890) translation. It also includes the King James Strongs Concordance. It has 936,097 references. It contains 3 different formats of the Bible. This makes for an extraordinary Study Bible in digital format. It is, with the resources included, like a treasure of Gold to those who seek God.
It includes Darby English Bible formatted in a read and navigation friendly format, or the Navi-format for short. In addition it also includes the King James Strongs Bible where every word is linked to original one in The Strongs Concordance. The Hebrew in The Old Testament. The Greek in The New Testament. We have included the gematria calculations to the Hebrew words. For the Greek Strongs the gematria is also calculated. Niqquds in Hebrew is not supported in this ebook though. It also includes the Darby English Bible, tailored Text-To-Speech (tts) software technology. Most of the verses in the Bible formats are interlinked, so switching from one format to the other is usually only a click away.
How the general Bible-navigation works:
A Testament has an index of its books.
The TTS format lists books and chapters after the book index.
The Testaments reference each other in the book index.
Each book has a reference to The Testament it belongs to.
Each book has a reference to the previous and or next book.
Each book has an index of its chapters.
Each chapter has a reference to the book it belongs to.
Each chapter reference the previous and or next chapter.
Each chapter has an index of its verses.
Each chapter in TTS reference same chapter in the Navi-format.
Each verse is numbered and reference the chapter it belongs to.
Each verse starts on a new line for better readability.
In the TTS format the verse numbers are not shown.
Any reference in an index brings you to the location.
The Built-in table of contents reference all books in all formats.
The combination of Darby English Bible, the concordance and its navigation makes this ebook unique. It literally is a goldmine to those who wants to dig into The Word of God. The navigation is solid and perfect for the quick lookup. Whether you are listening to a speech and need to keep up with the Bible references or just read the Bible, this is built for both.
Note that Text-To-Speech (TTS) support varies from device to device. Some devices do not support it. Others support only one language and some support many languages. The language used for TTS in this ebook is English.
Please beware its size. It is big compared to "normal" ebooks, so your ebook reader may need some time to load and update its index before you are able to use it properly. How quick an ebook reader is able to load and update, varies depending on its hardware like the cpu, storage, memory and its operating system. Newer devices performs better, but once loaded we find it works as expected. Our own tablet from 2012 works beautiful, once fully loaded.