The Fortney Encyclical Black History
ebook
∣

The World's True Black History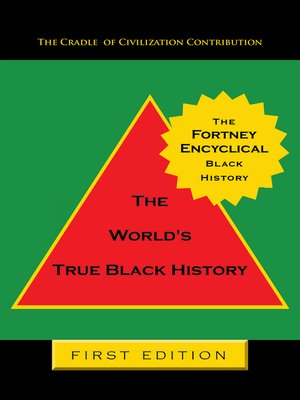 Sign up to save your library
With an OverDrive account, you can save your favorite libraries for at-a-glance information about availability. Find out more about OverDrive accounts.
Search for a digital library with this title
Title found at these libraries:
The Encyclical Black History has been created for the critical and lack of vital Afro-Centric Multi-Curriculum text in urban school systems and is a necessity for African Americans. This book was created with careful and serious attention to biographical names that identifies history, culture as well as biblical characters. The reason why of this encyclical history can be explained with the facts and proof/evidence of the following. The point that has socio-psychological implications at the unconscious as well as the conscious level is the great "little white racist lie," seen long enough, becomes the truth; like, portraying a white Jesus Christ who was a black man. Dr. Alvin Poussaint, a Black psychiatrist associated with Harvard University and others have observed and explained the most tragic part of all of this is that the African American has come to form his self image and self-concept on the basis of what white racists have laid down as a guide or prescribed. Therefore, black men and women learn quickly to hate themselves and each other more than their white oppressor. There is almost infinite evidence that racism has left almost irreparable scars on the psyche of Afro-Americans that burden with an unrelenting, painful anxiety that drives the psyche to reach out for a sense of identity and self-esteem. Poussaint and others say that black children, especially learn to hate themselves at very early ages. Studies reveal their preference for white dolls over black ones. One study reported that black children in their drawings tend to show blacks as small, incomplete people and whites as strong and powerful. To conclude, in western color symbolism white is positive and black negative. Many people might ask why the contributions of Africa should be included in American curriculum? Is because they bleach and still rob black history and culture with black pictured as white that lie, leaves us mentally-dead, angry, and without purpose, of where we are going! Human culture is the product of all humanity, not the possession of a single racial or ethnic group. Afro-centric Multicultural educations major aim is to close the "gap" between Western ideals of equality, justice and practices that contradict these ideas. Stereotype people of color and people who are poor have just about no opportunities to become free of perspectives that are monoculture, that devalue African culture victimize them mostly having an inability to fully, function effectively in society. Many of these problems could be miraculously remedied with astonishing results if explained of black scientific achievements, which occurred in black Africa. There are also white African Americans living in the U.S.A. besides black African Americans, should make the distinction. Carl Sandburg (1979) related a dialogue between a white American and an American Indian which illustrates the need for multicultural education: The white man drew a small circle in the sand and told the red man, "This is what the Indian knows," and drawing a big circle around the small one, "this is what is what the white man knows." The Indian then took the stick and swept an immensely big ring around both circles and said, "this is where the white man and the red man knows nothing.