Allison's Defeat (The Calnis Chronicles)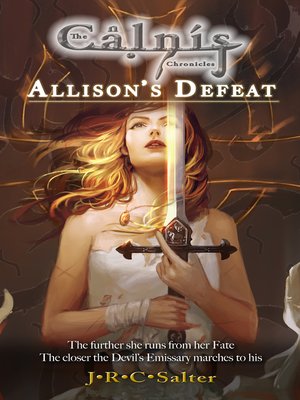 Sign up to save your library
With an OverDrive account, you can save your favorite libraries for at-a-glance information about availability. Find out more about OverDrive accounts.
Search for a digital library with this title
Title found at these libraries:
The further she runs from her fate
The closer the Devil's Emissary marches to his.
'An enjoyable ride. I'm definitely glad I read it.'
-Brandon Hale, author of the Day Soldiers saga
Sixteen year old Allison has definite plans for her future. A Fender Stratocaster, to marry her childhood sweetheart, and the cover of Rolling Stone is all she wants. So when a new school friend tells her she is to be God's warrior, and a black cloaked woman enters her life with murderous intentions, she fears her dreams will soon evaporate.
Though Allison refuses to believe in any divine being, her conviction is tested as she confronts her growing psychic abilities and struggles with knowledge she cannot possess. She is thrown into a life where immortal beings battle in a millennia-long war, and Fate has recruited her. At the centre of everything lies a sword, bathed in a bright light, its transparent blade stabbed into the wooden floor; a symbol of her ultimate fate.
Beyond her confusion and dismay, the Devil's Emissary awaits the fight.
Word count ~77 000.
WARNING
Contains violence, strong language, and scenes of a sexual nature.
The Calnis Chronicles.
The once great realm of Calnis lies in ruins. Few know of its existence except in fairy tales and myths. Older even than the nation itself is the ancient power that still lies beneath the capital — a power that must never be wielded.
Today the nation's legacy lives on through the Tarimain, immortal soldiers fighting for the good of all existence. But the forces of Hell are intent on reigniting the war that began before time itself. A war between Gods and Mortals that will lay waste to the Twelve Worlds.
The Calnis Chronicles is a series of novels, short stories, and other ephemera. The main collection will consist of four series.
Rise of the Emissary
Prophets foretell the arrival of the Devil's Emissary. He will topple nations upon his arrival, and his power will cloak the world in darkness. Fate has recruited a solitary girl to ward off this destruction. First, though, she needs to confront her ideas of reality.
A series of three stand alone books. Each one chronicles the life of a particular character, and their importance to this pivotal stage of history.
The Calnis Chronicles of the Tarimain
The Tarimain, immortal soldiers tasked with fighting on the front lines of the eternal war uncover a dark demonic plot to raise an army. As Earth approaches a worldwide war, they hunt a Great President of Hell, and the mysterious Man with the Eyes.
A series of short stories that follow on from one another, and are collected in volumes of ten.
J R C Salter was born in the English Westcountry in the mid-Eighties, the first child of Karen and David, and he has two brothers and one sister.
He trained and practiced as a chef for many years, and now he works as a barista while publishing books on the side, with the aim of becoming a full time author.
He still likes to cook, and enjoys baking cookies, as well as reading, coding, and making giant Star Wars models from Lego.
He currently lives in the small town of Cullompton in Devon, and his main inspirations are Tolkien, and the works of Joss Whedon.
Allison picked it up. It felt lighter than she thought, but still weighed enough. She grabbed hold of the scabbard and pulled. Out came a long, double edged sword, transparent as glass, with a tendril of opaque material running the length from hilt to tip. She gasped and whispered, 'I know this sword.'
'Really?' Cat said. 'Where?'
She continued to look at the sword as it projected...