Recent Progress In Medicinal Plants (Biotechnology and Genetic Engineering Part-II)
ebook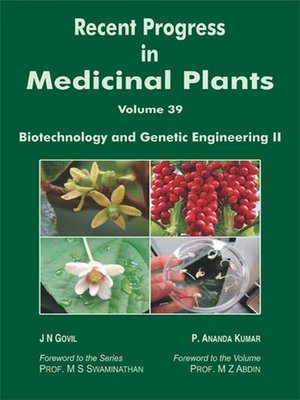 Sign up to save your library
With an OverDrive account, you can save your favorite libraries for at-a-glance information about availability. Find out more about OverDrive accounts.
Search for a digital library with this title
Title found at these libraries:
The objective of the volume 39th of Recent Progress in Medicinal Plants (RPMP) is to present here up-to-date progress in the area of medicinal biotechnology for resourcing from the plant material for human welfare and utilizing the biotechnology approach to enhance the secondary metabolites and therapeutics using the method of tissue culture, genetic transformation. This volume contains seventeen chapters dealing with various aspects in the area of medicinal plants. Its contributors are from 7 countries, namely Brazil, Egypt, India, Malaysia, Poland, Romania and Turkey. First chapter dealing pharmaceutical, biotechnology for cultivation and manipulation of heterotrophic microorganisms, plants and animals towards obtaining active principles, second chapter has discussed here about the biodiversity of traditional medicinal plants in India and DNA Barcoding technique for identification of the medicinal plants at the molecular level in the species without involving the morphological cues. Third chapter has discussed the recent trends in production of secondary metabolites such as drugs, flavours and fragrances, dye and pigments, pesticides and food additives and using the following tissue culture, genetic transformation, genomics and metabonomics based for exploring the plant biochemical system. The next chapters consisting of two section deals using elicitors based induce of secondary metabolites in plant cell culture and production of therapeutic active metabolites using Agrobacterium rhizogenes in plant root culture, respectively. The Sixth and Seventh chapters describe the synthesis of secondary metabolites using bioelicitation based enhancer and involving this elicitor in the biosynthetic pathway for the production of commercially important compounds and immobilization systems in plant cell culture to enhance the biomass accumulation and secondary metabolite production, respectively. The eighth and ninth chapter presents in vitro production of beneficial bioactive compounds from plants by cell immobilization and production of Withanolides from adventitious roots and hairy root culture in Withania somnifera using abiotic based elicitation, respectively. The tenth and eleventh chapter deals with the advancement of tissue culture for ornamental plants and synthesis of natural colorant of anthocyanin from kokum plant. The role of biotechnology and species distribution modelling in conservation and sustainable use of medicinal plants in the arid regions, endemic and threatened medicinal plants and biotechnological utilization of the indigenous biosynthetic capacity of medicinal and aromatic plants has been discussed in twelfth, thirteenth and fourteenth chapters. The last three chapters elaborates the evaluation of antibacterial potential of different solvent extracts from medicinal plants, in vitro culture of Schisandra chinensis and analysis of essential leaf oil from Toddalia asiatica.