Equipment & Instruments--Medical Laboratories in South Korea
ebook
∣

Market Sales

·

PureData e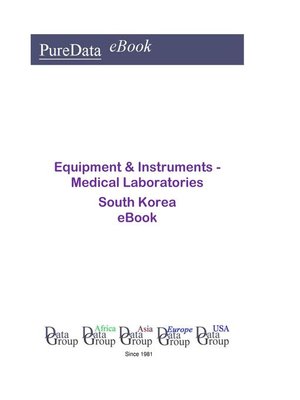 Sign up to save your library
With an OverDrive account, you can save your favorite libraries for at-a-glance information about availability. Find out more about OverDrive accounts.
Search for a digital library with this title
Title found at these libraries:
The Equipment & Instruments - Medical Laboratories South Korea eBook provides 14 years Historic and Forecast data on the market for each of the 61 Products and Markets covered. The Products and Markets covered (Equipment & instruments for medical laboratories) are classified by the Major Products and then further defined and analysed by each subsidiary Product or Market Sector. In addition full Financial Data (188 items: Historic and Forecast Balance Sheet, Financial Margins and Ratios) Data is provided, as well as Industry Data (59 items) for South Korea.

EQUIPMENT + INSTRUMENTS - MEDICAL LABORATORIES

1. Equipment & instruments for medical laboratories
2. Automated blood sedimentation rate analysers, haematology
3. Blood & vaccine storage equipment
4. Blood & vaccine storage equipment, mobile
5. Blood cell counters (haemocytometers)
6. Blood cell processing equipment
7. Blood cell separators
8. Blood gas analysers
9. Blood platelet aggregometers
10. Blood sampling apparatus, vacuum
11. Blood storage cabinets
12. Blood type identification equipment, medical laboratory
13. Blood, plasma & serum chemistry analysers
14. Body fluid analysers
15. Breath analysers
16. Breath test equipment accessories
17. Centrifuges, blood, medical
18. Centrifuges, medical use
19. Chromosome analysers, computerised
20. Colorimeters, medical
21. Cryo-preservation systems, biological storage
22. Cyto centrifuges
23. Cytofluorimeters
24. Cytometers
25. Deoxyribonucleic acid (DNA) synthesizers, oligonucleotide production
26. Diagnostic instruments, blood alcohol
27. Driers for medical laboratories
28. Dust cloud generators, medical research
29. Enzymatic analysers, automated, for medical laboratories
30. Filters, biomedical
31. Fluorometers, immunology
32. Freeze drying equipment for medical research laboratories
33. Freezers & freeze driers, plasma & blood bank
34. Haemoglobinometers
35. Histological test equipment
36. In vitro fertilisation equipment, medical laboratory
37. Incubators, infrared, carbon dioxide, for medical research laboratories
38. Isolation cabinets, safe handling of biologically hazardous materials
39. Laboratory equipment, anthropometry
40. Laminar flow chambers, safe handling of biologically hazardous materials
41. Leucocytometers
42. Metering equipment, Rh values
43. Micrographic & macrographic apparatus & equipment, medical laboratory
44. Oximeters
45. Polarimeters, medical
46. Recorders, physiological laboratory
47. Refrigeration equipment, medical laboratory
48. RNA/DNA calculators
49. Saccharometers, medical
50. Sample dyeing apparatus for medical laboratories
51. Sterilisation equipment, medical laboratory
52. Synthesis & sequencing equipment, proteinoid compounds, for medical laboratories
53. Temperature controllers, medical laboratory
54. Thermostatic chambers for medical laboratories
55. Thrombo-opacimeters, coagulometers
56. Tissue type determination equipment
57. Ultra low temperature freezers, medical laboratory
58. Ureometers, albuminometers
59. Vaccine refrigeration systems
60. Washers for blood cells
61. Equipment & instruments for medical laboratories, NSK



There are 188 Financial items covered, including:
Total Sales, Pre-tax Profit, Interest Paid, Non-trading Income, Operating Profit, Depreciation, Trading Profit, Assets, Capital Expenditure, Retirements, Stocks / Inventory, Debtors, Services Purchased, Current Assets, Total Assets,...