Was Frankenstein Really Uncle Sam?
ebook
∣

Notes on the Place of the Declaration.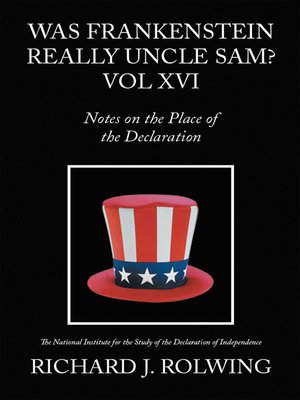 Sign up to save your library
With an OverDrive account, you can save your favorite libraries for at-a-glance information about availability. Find out more about OverDrive accounts.
Search for a digital library with this title
Title found at these libraries:
Chief Justice Marshall said the "legislature makes, the executive executes, and judiciary construes the law." James Wilson quoted Francis Bacon two hundred years earlier saying that "making law is not for the judges." Chief Justice Hutchinson of Massachusetts in 1767 said that "the Judge should never be the Legislator because then the Will of the Judge would be the Law: and this tends to a State of Slavery." Justice Wilson himself said in 1789 that "when once it is established that Congress possesses the power to pass an act, our province ends with its construction. . . . The province of the courts is to pass upon the validity of laws, not to make them, and when their validity is established, to declare their meaning and apply their provisions. All else lies beyond their domain" (p.379). In 1960, Charles Black confirmed that for the colonists, "the function of the Judge was thus placed in sharpest antithesis to that of the Legislator" who alone was concerned "with what the law ought to be." Washington's farewell address told the delegates to "confine themselves within their respective Constitutional spheres, avoiding in the exercise of powers of one department to encroach upon another. The spirit of encroachment tends to consolidate the powers of all the departments in one, and thus to create . . . a real despotism." In 1926, Justice Brandeis stated, "The doctrine of separation of powers was adopted . . . to preclude the exercise of arbitrary power."